Sell your goods at the Vintage Market!
Shop for Vintage
Clothing
Jewelry
Jackets
Boots
Artisan Crafts
Vinyl Records
Books
Toys
Hats
Purses
Belts
Accessories
Up-cycled Wares
Shop at the Blacksburg Vintage Market on the second Sunday of every month from April thru November from 10 am to 5 pm for the best selection of vintage Vinyl, Clothing, Jewelry, Books, Housewares, Oddities, and who knows what else.
Vintage Market
Established in 2013, the Vintage Market is located in downtown Blacksburg at the corner of Roanoke Street and Draper Avenue, in Market Square park, under the Farmer's market structure. Plenty of parking is available nearby! The rain date is the 3rd Sunday of the month.
The market is made up of a carefully chosen group of vendors who are selling a wide selection of quality vintage items, upcycled crafts, and occasional antiques. Some of the treasures you will find at this fascinating market are: vintage vinyl Lps, a wide selection of interesting jewelry, clothing for all ages, footwear, old books, handbags & accessories, rugs, house wares, folk art, and much more.
For more information and inquiries about space availability, please email Lauren Cooper at greenstarfarm@hotmail.com.
Visit our Facebook page @ https://www.facebook.com/BlacksburgVintageMarket/.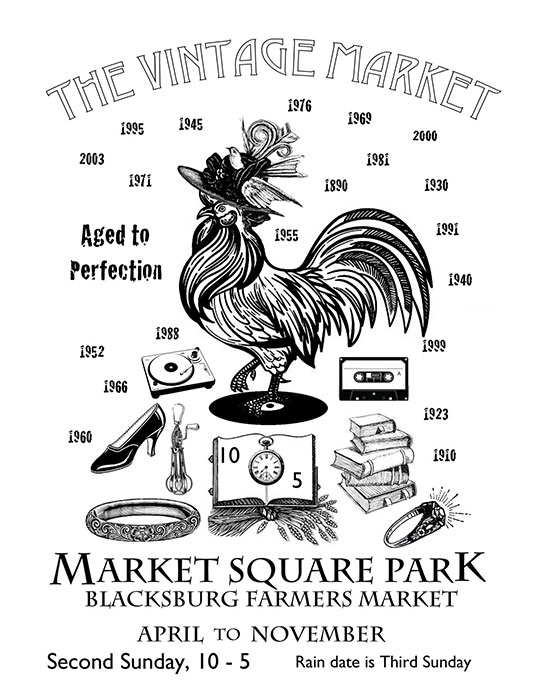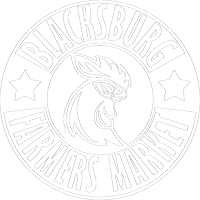 Sell Your Vintage Goods and Up-cycled Crafts
The Vintage Market is every second Sunday, April - November, 10 a.m. - 5 p.m.
Reserve Your Spot at the Vintage Market
Inviting local vintage resellers and up-cycled crafters to apply to participate in Blacksburg's Vintage Market hosted by the Friends of the Farmers Market.
Vintage items must originate from 2002 or earlier.
Crafts must be handmade of artisan quality with vintage aesthetic, or be "up-cycle" makers using repurposed materials.
All applications will be juried.
Vendors must set up by 10 a.m.
Vendors must supply tables and displays.
$10 fee for a 9' x 15' space under heavy timber structure, and 4% of total sales paid to Lauren Cooper in cash or by check made out to Lauren Cooper the day of the market.
Rain date is the third Sunday of the month, all vendors will be notified prior to change.
If interested, please:
Email up-to-date photos of representative items you will be selling to Lauren Cooper at greenstarfarm@hotmail.com.
If selected, you will be notified via email.
You MUST PAY THE $10 FEE to secure your spot and return the completed Vendor Application.
Give monies to Lauren Cooper the day of the market.